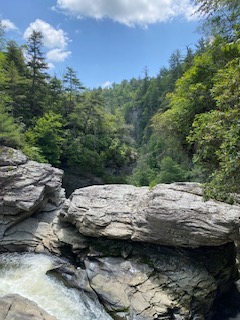 Have you ever permanently opted out of something after one too many bad breaks?
For me it was hiking. In the ER after breaking my third leg (not kidding) on a rocky, slippery trail… I kissed hiking goodbye. No more. I'm out. It's just not worth it.
That was until today when Ava the Avalon and I slammed on brakes at the Linville Falls sign. The hike down to the falls was not terribly treacherous, but was magnificent. The "20 seconds of insane courage" it took to hike the first step on the unknown trail was pure terror and sweet exhilaration. I was finally ready for fear to stop bossing me around.
What fears have you overcome? Roller coasters? Quitting the job that wasn't sparking joy anymore? Dating? Failure?
What would you do with 20 seconds of insane courage?
I want to encourage you to
Do the thing.
Start the business
Call the guy (or girl)
Take the hike.
God's got this and He's got You.