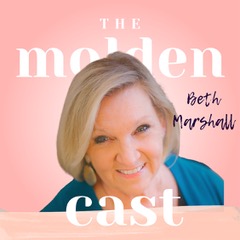 Help! My friend is grieving!
Author and speaker Beth Marshall joins the Molden Cast family today. This conversation is packed FULL of wisdom and practical ways to be a great friend through the hard times. This episode, much like Beth's upcoming book, Uncrushed, is like chicken soup for the griever's soul—full of ingredients and ideas to help us through the toughest seasons. If you've ever felt like you need a "Grief for Dummies" manual, you are going to love the thoughtful advice Beth gives us here.
Beth is the author of two books and a grief-related, YouVersion plan. She's most excited about her newest book, Uncrushed -coming this September from End Game Press! You're gonna want to put a reminder in your phone to pre-order in August!
[thanks for the kind words, Jessye Wilden!]
Speaking of my dear California friend, Jessye, here's her beautiful book- We Wrote Your Name In Color– available everywhere you love to buy books.